Friday, August 12, 2016
صالح النعامي
Link
يثير الهدوء النسبي التي تشهده المواجهة بين قوى المعارضة السورية ونظام
بشار الأسد
في جنوب
سوريا
الكثير من التساؤلات؛ فلأول وهله تبدو حقائق الجغرافيا والوقائع الموضوعية وحسابات القوى الإقليمية العربية، سيما
الأردن
، عوامل يفترض أن تسهل وتحفز حسم المواجهة لصالح قوى المعارضة في المنطقة.
فنظرا لأن هذه المنطقة تتاخم الحدود مع الأردن، فبإمكان الدول العربية التي تجاهر بسعيها لإنهاء حكم بشار الأسد أن توفر السلاح والإمكانيات العسكرية التي تمكن المعارضة من حسم المواجهة في هذه المنطقة بشكل سريع.
ولا حاجة للتذكير بأن
إشعال جبهة الجنوب سيفضي إلى تقليص هامش المناورة أمام نظام بشار الأسد والأطراف التي تقاتل إلى جانبه
، مما سيفضي إلى تقليص التحديات التي تتعرض لها قوى المعارضة السورية في المناطق الأخرى، سيما في محيط
دمشق
ومنطقة الشمال، بشكل يفضي إلى تمكن قوى المعارضة من استعادة زمام المبادرة في عموم سوريا.
من ناحية ثانية، وعلى الرغم من أن قوات النظام استفادت من الغطاء الجوي الروسي في تثبيت الواقع الميداني جنوبي سوريا، فإن الطيران الروسي يبدي أقصى درجات الحذر في العمل في هذه المنطقة، خشية الدخول في المجال الجوي
لفلسطين
المحتلة، بشكل يتناقض مع قواعد التنسيق المشترك التي تم التوافق عليها بين إسرائيل
وروسيا
. فخلال بعض الغارات التي شنتها الطائرات الروسية على
درعا
وريفها في فبراير/شباط الماضي اضطرت الطائرات الروسية إلى اختراق المجال الجوي لفلسطين المحتلة، وهو ما أفضى إلى احتجاج إسرائيلي لضمان عدم تكرار الأمر.
value="videoId=4676904315001&playerID=664986189001&playerKey=AQ~~,AAAAmtUu5YE~,Qj5tZQq6gc_zF52TweSQkQeVtQAw8FQy&domain=embed&dynamicStreaming=true" />
value="videoId=4676904315001&playerID=664986189001&playerKey=AQ~~,AAAAmtUu5YE~,Qj5tZQq6gc_zF52TweSQkQeVtQAw8FQy&domain=embed&dynamicStreaming=true" />
وقد كان ألوف بن، رئيس تحرير صحيفة "هارتس" أول من كشف مرتكزات تفاهم نظام الحكم في الأردن مع إسرائيل والولايات المتحدة. ففي مقال مهم نشرته الصحيفة بتاريخ 15-4-2013 أوضح بن أن رئيس الوزراء الإسرائيلي قام خلال شهر ديسمبر/كانون الأول 2012 ويناير/كانون الثاني 2013 بأربع زيارات سرية
لعمان
التقى خلالها بالملك عبد الله للتفاهم على تدشين "حزام أمني واقعي"، يضمن الهدوء على الحدود من جهة، ومن جهة ثانية يعفي الكيان الصهيوني من تبعات التدخل في سوريا. وعلى الرغم من أنه لا يمكن توقع أن يتبرع كل من النظام في الأردن أو إسرائيل بالكشف عن الخطوات وميكانيزمات التحرك التي ضمنت تدشين هذا الحزام الواقعي، فإنه من الواضع أن الذي يدلل على وجوده هو تثبيت الواقع السياسي والعسكري في المنطقة.
الورقة الدرزية
إن الاعتبار المهم الآخر الذي يدفع إسرائيل للعمل على تثبيت الواقع الميداني في جنوب سوريا هو خوفها أن تفضي خسارة النظام معاقله في الجنوب السوري، سيما في السويداء إلى المس بالدروز الذين يقطنون تلك المنطقة، مما سيفضي إلى ردة فعل للدروز الذين يعيشون في إسرائيل ويخدمون في جيشها وأجهزتها الأمنية.
ونظرا للدور الكبير الذي يلعبه الدروز في إسرائيل في حماية الأمن الصهيوني، فقد عقد ممثلو الدروز في إسرائيل في مايو/أيار 2015 عدة لقاءات مع وزير الحرب الصهيوني السابق موشيه يعلون للتباحث حول مصير الدروز في جنوب سوريا. ونقلت صحيفة معاريف في عددها الصادر بتاريخ 6-6-2015 عن نائب وزير التعاون الإقليمي الإسرائيلي أيوب قرا، وهو درزي، أن القيادة الإسرائيلية قامت "بنقل الرسائل المطلوبة لضمان عدم المس بالدروز جنوبي سوريا". ومن الواضح أن إسرائيل معنية بأن يساعد الأردن في صياغة الواقع الأمني في جنوب سوريا بشكل لا يفضي للمس بالدروز، إذ الجيش الإسرائيلي لا يضع في حساباته التدخل العسكري المباشر لحماية الدروز في المنطقة (هارتس، 12-6-2015).
تنسيق وثيق
لقد سمح ملك الأردن عبد الله الثاني بإطلالة نادرة ومهمة على طابع التنسيق الإسرائيلي الأردني المشترك فيما يتعلق بسوريا. ولعل ما قاله الملك عبد الله في الاجتماع الذي عقده مع 11 سيناتور أميركي في11 يناير/كانون الثاني الماضي في واشنطن، وكشف عنه الصحافي ديفيد هيرست في تقرير نشره موقع "ميدل إيست آي" في مارس/آذار الماضي، يشي بعمق التعاون بين الجانبين. فقد أقر الملك بأنه استجاب لطلب قيادة الجيش الإسرائيلي وأمر جيشه بتدشين قناة اتصال بالجيش الروسي، على غرار القناة التي دشنها الجيش الإسرائيلي، إلى جانب تأكيده أنه بادر بالاتصال برئيس الموساد والطلب منه الالتقاء به لتحسين قدرة الطرفين على التنسيق المشترك في سوريا.
ونقل موقع "وللا" الإسرائيلي بتاريخ 18-2-2015 عن مصدر أمني صهيوني كبير قوله إن التعاون والتنسيق الأمني والاستخباري بين الأردن وإسرائيل بشأن سوريا "فاق كل التوقعات". وقد وصل التنسيق إلى درجة أن سلاح الجو الأردني والإسرائيلي أجريا عدة مناورات مشتركة، وذلك لمواجهات تبعات التحولات المحتملة في سوريا (هارتس، 2-7-2016).
لعبة مزدوجة
لكن في مواجهة الخدمات الإستراتيجية الهائلة التي تقدمها عمان، فإن حكام تل أبيب يمارسون لعبة مزدوجة مع نظام الحكم في الأردن من خلال التشكيك في قدرته على الصمود والمجاهرة بالكشف عن دور إسرائيل في ضمان بقائه، كما زعم مؤخرا وزير الحرب السابق موشيه يعلون(يسرائيل هيوم، 27-7-2016). وفي مناسبة أخرى دعا يعلون جيشه للاستعداد لمواجهة تبعات سقوط النظام في عمان؛ وهو ما جعل الجيش الإسرائيلي يجري مناورات على تنفيذ عمليات في عمق الأردن ذاته (هارتس،17-7-2015).
وبسبب عدم ثقتها في استقرار نظام الحكم في عمان، فقد أحبطت إسرائيل تنفيذ صفقة التزمت الولايات المتحدة بموجبها بتزويد الأردن بطائرات بدون طيار ذات قدرات هجومية؛ حيث بررت تل أبيب موقفها بأن هناك مخاطر على استقرار نظام الحكم وأن هذه الطائرات يمكن أن تصل في النهاية إلى جهات "أصولية متطرفة" (معاريف، 4-7-2015). ولم تحرص إسرائيل على أدنى مراعاة لمصالح الأردن عندما قامت بتدشين مطار "تمناع" شمال إيلات، حيث تبين أن العمل في هذا المطار سيشوش بشكل خطير على حركة الملاحة الجوية في مطار العقبة، كما تؤكد عمان ذلك. ومما يثير الاستهجان، حقيقة أنه على الرغم من مظاهر السلوك الإسرائيلي السلبي الفج تجاه الأردن، فإنها لم تواجه بردة فعل من قبل نظام الحكم في عمان.
قصارى القول، ما تقدم يدلل على أن
اعتبارات المصلحة الإسرائيلية تلعب دورا مهما في تثبيت الواقع السياسي والعسكري جنوبي سوريا
. والمؤسف هو أن الأطراف العربية التي تبدي كل هذا الحرص على المصالح الإسرائيلية وتسهم بذلك في إطالة أمد معاناة الشعب السوري تقدم على ذلك وهي تغض الطرف عن عدم تردد إسرائيل بالمس بمصالحها القومية.
Thursday, August 11, 2016
Link
لندن- القدس العربي- تعرّض منزل فنان الكاريكاتير السوري علي فرزات في دمشق لاعتداء طال عدداً من أعمال الفنية كما أكد الفنان، الذي كان ترك دمشق في العام 2011 إثر عملية خطفه من وسط العاصمة السورية، والاعتداء عليه جسدياً وتهشيم أصابعه في محاولة لإسكاته رسوماته الناقدة للنظام.
فرزات أكد، في حديث لـ "القدس العربي"، أن قوة أمنية يترأسها ضابط برتبة رائد، كسرت قفل المنزل، وبدّلته، ثم ترك أربعة عناصر فيه. ليجري بعدها سرقة أثاث المنزل، وخلع صناديق وخزائن وسرقة رسوم".
ونقل فرزات عن شهود عيان أن جيران المنزل سألوا القوة المداهمة فجاء الجواب بأن "لدينا أوامر عليا"، و"هذا ليس شغلكم".
وتساءل الفنان السوري "دولة المؤسسات والقانون تلجأ عادة إلى مؤسسات قضاء مختصة، وتختم بالشمع الأحمر، أما ما يفعلونه هنا فهو "سلبطة" أمام الجميع″. وأضاف "هم فوق ذلك

صادروا البيت وينوون عرضه للبيع في مزاد علني

".
الفنان قال إنه "بات من المعتاد التحريض على الفنانين والأدباء، ومصادرة بيوتهم نتيجة مواقفهم المعارضة"، وتساءل "

ما الفرق بين النظام وبين "داعش

" الذي يعتدي على المتاحف والتماثيل، فيما هم يكسرون أعمال الفنانين المعاصرين".
وأضاف "يبدو أن

الفكر والفن يوجعهم أكثر من أي شيء آخر

. علي فرزات لا يملك سوى القلم، ليس لديه سلاح ولا آربي جي".
ولم يخف الفنان سخريته، حتى وهو يراقب هذا الاعتداء على أعمال عزيزة بالنسبة له، حين قال "إنها لوحة كاريكاتيرية، حين نراهم يصادرون اللوحة مع الطنجرة والمقلاية. هناك سريالية في المشهد أكثر من سريالية وكاريكاتيرية اللوحة".
الحادثة الجديدة أعادت إلى الأذهان الاعتداء الذي تعرض له فرزات مع بداية الثورة السورية العام 2011، حيث خطف من ساحة الأمويين وسط دمشق، وضرب وهشمت أصابعه قبل أن يلقى في الطريق. وهو يعلق بالقول "الحادثة كانت سببها النقد والرسم، بعد أن اعتبروا بعض رسوماتي التي تتناول الرئيس أو فروع الأمن تجاوزاً للمحرمات. لكن الحقيقة أنهم أدركوا أننا كسرنا حاجز الخوف، ولم نعد نقبل بتأليه الأشخاص الذين قدسوهم لأربعين عاماً".
كذلك أشار الفنان إلى العديد من الحوادث المماثلة التي تعرّض لها فنانون، من أمثال الفنانين جمال سليمان ويارا صبري وعبدالحكيم قطيفان ومالك جندلي وابراهيم القاشوش".
وختم فرزات بالقول "

لا أدري إلى أين يريدون أن يصلوا. لديهم دائماً هاجس معاقبة الفنان ومنعه من الرسم. يحاولون لوي يدي ومنعي من القول

".
Woman and two children killed in suspected chlorine attack in Aleppo – one of

dozens of such attacks

reported since Syria gave up its weapons stockpile
A civilian breathes through an oxygen mask after an alleged chlorine gas attack in Aleppo. Photograph: Abdalrhman Ismail/Reuters
The Guardian
Link
A woman and two children have been
killed
and dozens injured in an alleged chlorine gas attack in Aleppo, doctors have said, as experts warned that the
frequent use of chemical weapons in Syria risks
normalising war crimes.
There have been dozens of attacks with chlorine gas since Syria officially agreed to give up its weapons stockpile following a 2013
sarin gas assault
on a Damascus suburb, rights groups and doctors on the ground said.
The latest reports came as
Russia offered to halt fighting for three hours a day
to allow aid into besieged parts of the city, but the UN countered by saying it needed at least 48 hours a week to take convoys through heavily bombed and mined roads into eastern Aleppo.
There are still 1.5 million people living in Aleppo, the city that was Syria's largest before the civil war and is now at the heart of the brutal battle for its future. About 300,000 civilians in rebel-held areas are at grave risk from water shortages and disease as fighting has intensified, said the UN envoy to
Syria
, Staffan de Mistura.
Asked about the chemical attack on the Aleppo district of Zubdiya, he said
there was a lot of evidence that it took place, and it would constitute a war crime if chlorine gas was used
, but he added that it was not his remit to verify the attack. "If it did take place, it is a war crime and as such it would require everyone … to address it immediately," he added.
The challenge of verifying the use of chemical weapons in a war zone, particularly chlorine – which disperses rapidly and does not leave a unique chemical trace when used as a weapon – has hampered efforts to track their use.
However,
the UN's chemical weapons watchdog says it is confident that chlorine gas has been used as a weapon
. It does not apportion blame but has said the bombs were probably dropped by helicopters used by forces loyal to Bashar al-Assad.
The Syrian government denies using chemical weapons, and since the US president, Barack Obama, stepped back from enforcing his "red line" on their use, attacks have drawn nothing more than public condemnation from western leaders.
Although most recent attacks have been relatively small,
the toll of dead and maimed civilians and activists is mounting, and experts are concerned that the use of chemical weapons is no longer as shocking as it was a few years ago.
"There is certainly a huge risk of normalising [the use of chemical weapons]," said Richard Guthrie, a British chemical weapons expert who has raised concerns about the wider impacts of Syria's continued use of toxins as weapons.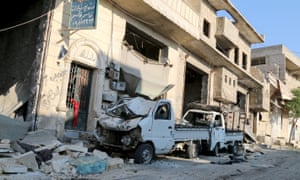 "In recent decades, chemical weapons have slowly been de-legitimised as a currency of power. The continued reports of use of these abhorrent weapons are deeply concerning. This latest allegation of use is another contribution to the slow and steady diminishing of the taboo."
Amnesty International and doctors on the ground said the timing of the attacks indicated they may be used as reprisals against civilians
in areas where rebels make military gains. "There may also be a punishment angle to this," said Neil Sammonds, Syria researcher with Amnesty. "
Its beneficial for them to keep terrorising and making life as painful as possible for people living in areas they don't control
."
The latest apparent attack happened after opposition fighters broke a siege on eastern Aleppo. Within hours, doctors said they were preparing for a chemical attack. Another
chlorine attack
reported this month was near where a Russian helicopter was shot down.
"
Using chemical agents without accountability has become the new normal in Syria. It is a very dangerous precedent that the international community is setting
," said Zaher Sahloul, a Syrian-American doctor who regularly volunteers in Aleppo.
"Since the UN security council resolution to destroy chemical weapon stockpiles in Syria, there were
more than 70 attacks with chemical agents by the Syrian regime
but this time with chlorine gas," added Sahloul, whose organisation tracks reported chemical attacks.
Most recent attacks attributed to government forces have used chlorine gas, which analysts say may be due to its ready availability as a common industrial chemical and the challenges of tracing it.
"[Chlorine], although militarily not a very efficient way of conducting war,
is extremely effective at sowing terror. It's also a very useful weapon if you don't want to be traced
," said Jerry Smith, director of security consultancy RameHead International and a former UN chemical weapons inspector in Syria.
"So all you are left with after an attack is reporting and witness statements. And in an investigation, if you base everything on witnesses, some people will question if that is ever sufficient."
Smith, who said chlorine has probably been used several times in Syria, believes
the challenge of tracing the gas and the international community's weak response may make it a particularly attractive weapon for regime forces.
"Its impact is two-fold,
not only is it a terror weapon, but victims know it's a terror weapon,
and that regimes shouldn't use it under international law. So that almost increases the impact of terror," said Smith.
The impact of Syria's use of chemical weapons could allow chemical weapons to flourish far beyond its own civil war, Guthrie has warned. "As it stands today,
one lesson of Syria that could be drawn by other dictatorships is that a chemical weapons programme may buy you time within a civil war,
" he told a recent
international conference
.
"If the major disincentives to producing chemical weapons and then to use them might be fear of being deposed by internal or external forces or getting caught by the international community and being brought to trial, then the Syria case has illustrated none of these."