Friday, June 23, 2017
In the Arab world, freedom of speech is being curbed to stop old and new media from raising questions about the way in which countries are run. This is wrong
Guardian Editorial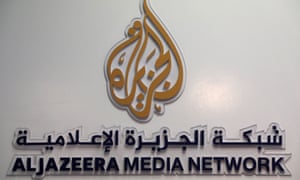 Link
I
n the conservative autocracies of the middle east, Qatar, a wealthy gas-rich emirate, has built up a reputation as a maverick, epitomised by its ownership of the al-Jazeera satellite television channel, which has often infuriated many Arab leaders.
Since the TV station gave voice to the Arab spring, many autocrats no doubt wished it would be taken off air, permanently
. Al-Jazeera, which arrived long before the internet in the region, broke the mould by reaching directly into Arab living rooms. Along with social media, al-Jazeera has in recent years stirred public opinion in ways
Arab governments could not ignore
. But now
Saudi Arabia and the United Arab Emirates think they can silence it with a blockade of Qatar that will only be lifted if
al-Jazeera is shut down.
The internet has also provided Arab rulers new ways to control the flow of information.
Many Gulf states, says Human Rights Watch, are now trying to silence critics after a wave of online activism
. Tweeters praising Qatar in
Bahrain
, the
UAE
and
Saudi Arabia
face either jail or steep fines.
The attack on al-Jazeera is part of an assault on free speech to subvert the impact of old and new media in the Arab world. It should be condemned and resisted.
A Saudi-led alliance has a list of 13 demands to end the blockade on Qatar. Middle East Eye sifts their content
Link
Saudi Arabia and its allies have issued 13 demands for Qatar to meet if a blockade is to be lifted. But the list shows their main concern is not Qatar's financing of terrorists and cosying up to Iran, but instead a combustible mix of existential fear and attempts to diminish Doha's influence and wealth.
Also clear, given the contradictions and incorrect claims, is that the list was prepared haphazardly after the international community and the Muslim world remained sceptical of Saudi and UAE motives for imposing the blockade on Qatar.
Notable for its absence is any demands regarding Hamas - the Palestinian group which Saudi Arabia and its allies have called "extremist" during the five weeks of diplomatic crisis.
Middle East Eye, which too finds itself targeted in the list, has sifted through each demand in detail, in order.
Demand 1: Curb diplomatic ties with Iran and close its diplomatic missions there. Expel members of Iran's Revolutionary Guard and cut off any joint military cooperation with Iran. Only trade and commerce with Iran that complies with US and international sanctions will be permitted.
The ties between Qatar and Iran are by no means those of allies. Qatar and Iran share a major natural gas field, which means Doha has to maintain minimal ties with Tehran and cannot take the ultra-hawkish Saudi position.
Doha and Tehran are at opposite ends of the ideological spectrum. This is clearest in Syria, where Shia Muslim Iran backs the Assad government while Sunni Muslim Doha supports Turkish-backed rebel forces. In this light, it becomes difficult to give credence to claims of military cooperation between Doha and Tehran.
As for trade, the UAE is one of Tehran's biggest trade partners. The UAE played a major role in helping Tehran bust US and international sanctions by facilitating a gold-for-oil deal. Recent media reports based on Turkish statistics indicate that this
sanctions-busting gold trade
could still be ongoing.
Demand 2: Immediately terminate the Turkish military presence currently in Qatar and end any joint military cooperation with Turkey inside of Qatar.
Turkey has taken pains to assure other Gulf countries that any Turkish military presence in the Gulf is not to threaten any of them but to provide a bulwark against unspecified "common threats", which could potentially include Iran, making the Saudi demand for withdrawal contrary to its own interests.
There are a few dozen Turkish troops in Doha. Seeing a tiny Turkish presence as a bigger threat than Iran's easy reach across the Gulf at any point also reveals the real motive of the demand is to wrest Qatar of its sovereignty.
For Doha to accept this demand would mean allowing interference in its sovereign affairs. Turkey, too, is unlikely to even entertain such thoughts given its determination to not allow third-party meddling in its affairs.
Although highly unlikely, any decision on troop withdrawal from Turkey would come as a result of domestic pressure, where critics have been questioning the need for a Turkish base there since details of the deal began to emerge in 2014. Domestic critics have called the base a projection of the neo-Ottoman dreams held by the Turkish president.
Turkish troops arrive in Doha (Reuters)
Demand 3: Sever all ties to 'terrorist organisations' - specifically the Muslim Brotherhood, the Islamic State group, al-Qaeda, and Lebanon's Hezbollah. Formally declare those entities as terrorist groups.
Doha might be the victim of its own ambitions and of Western betrayal here. Right from the post-9/11 days when Qatar agreed to the Afghan Taliban opening a representation office in Qatar with Western blessing, the tiny Gulf country looked to be the neutral venue where even the harshest of adversaries could meet and talk.
Qatar did not even recognise the Taliban between 1996 and 2001.
With the exception of IS and al-Qaeda, Doha has looked to maintain its role as a neutral and safe venue for potential talks by allowing the presence of representatives of movements such as the Muslim Brotherhood on its territory.
The Saudis and other Gulf countries view the Muslim Brotherhood as the main threat to their continued existence but the international community – including Britain and the US - has strong reservations over designating the non-violent movement as "terrorist".
Doha is going to be hard-pressed to accept this demand given that it even succeeded in convincing the Palestinian group Hamas to amend its charter and adopt a softer and more positive tone.
Demand 4: Stop all means of funding for individuals, groups or organisations that have been designated as terrorists by Saudi Arabia, the UAE, Egypt, Bahrain, the US and other countries.
Qatar has rejected claims of such funding from the very first moment they were made. No evidence has been provided for such alleged funding.
Including the US in this demand indicates the tenuous nature of the claim. The US does not need the Saudi-led coalition to make demands on its behalf. The US recently signed a $22bn fighter jet deal with Qatar, something it would not do if it believed Qatar was an enemy, and nor would it continue to base 10,000 troops there.
Demand 5: Hand over 'terrorist figures' and wanted individuals from Saudi Arabia, the UAE, Egypt and Bahrain to their countries of origin. Freeze their assets, and provide any desired information about their residency, movements and finances.
Again there is no indication that Qatar has refused to cooperate with its Gulf Cooperation Council members within the framework of existing agreements or bilateral agreements with these states, including extradition agreements.
It is a demand Qatar might find difficult to accept if it wants to continue its role as a neutral and fair interlocutor and venue for negotiations between various feuding factions, especially if they represent non-violent movements.
Demand 6: Shut down Al Jazeera and its affiliate stations.
Soon after its establishment, Qatar's state-funded Al Jazeera network quickly became the region's only broadcaster able to provide coverage on a par with its established Western counterparts. A huge budget and a drive to recruit the best journalists from around the globe increased its stature.
The network's stance, however, often meant it was rejected both by the West as being too Muslim-focused and by the region's despots as inciting revolt.
In fairness to Saudi concerns, the network's Arabic-language channel has pushed a stronger line backing popular street movements in the region making the Saudis, the Emiratis and others nervous.
The Al Jazeera network has reflected the view of the royal palace, and has been careful to tame its coverage of Yemen in Saudi Arabia's favour to reflect its neighbour's current anti-Iran policies. The channel's coverage of domestic issues, such as modern slavery, has been muted.
Al Jazeera's main studio in Doha (AFP)
Demand 7: End interference in sovereign countries' internal affairs. Stop granting citizenship to wanted nationals from Saudi Arabia, the UAE, Egypt and Bahrain. Revoke Qatari citizenship for existing nationals where such citizenship violates those countries' laws.
A demand that is vague and will prove difficult to monitor even if it is the case. Conversely, the presentation of such a list of demands in itself can be construed as interference in Qatar's sovereign affairs.
Given the intricate family and tribal links between the nationals of Gulf countries, multiple citizenship is common and depriving citizenship rights to individuals without enough evidence warranting it could lead to grave human rights violations.
Demand 8: Pay reparations and compensation for loss of life and other, financial losses caused by Qatar's policies in recent years. The sum will be determined in coordination with Qatar.
Another vaguely and highly-contestable demand. With no specific compensation sums or the amount of financial loss mentioned, and also no concrete evidence, it makes it impossible for any independent state to accept.
Demand 9: Align itself with the other Gulf and Arab countries militarily, politically, socially and economically, as well as on economic matters, in line with an agreement reached with Saudi Arabia in 2014.
Qatar is already part of the Saudi-led Islamic military alliance. It is also a fully-integrated member of the GCC. Its economic interests as a major exporter of hydrocarbons means its economic direction is aligned with that of Saudi Arabia.
The only difference appears to be Doha's refusal to adopt the same tone as the Saudis on Iran due to its shared South Pars gas field, and Qatar's backing of popular democratic movements across the region, excluding the Gulf.
This might prove to be one of the demands Doha will find easier and more practical to comply with if the blockade against it is lifted first.
Demand 10: Stop all contacts with the political opposition in Saudi Arabia, the UAE, Egypt and Bahrain. Hand over all files detailing Qatar's prior contacts with and support for those opposition groups.
More signs of a hastily cobbled-together list of demands. Any political opposition in the mentioned countries are strictly monitored by these repressive governments. No evidence has been provided to justify claims of such Qatari actions.
There is little to indicate that Qatar would stand to gain by fomenting trouble in its own backyard. In fact, it would stand to lose as its routes to export natural gas, its biggest source of revenue, would be jeopardised.
Demand 11: Shut down news outlets that Qatar funds, directly and indirectly, including Arabi21, Rassd, Al Araby Al-Jadeed and Middle East Eye.
MEE is an independently-funded London-based news site dedicated to providing in-depth, impartial and factual coverage of the Middle East.
Reports from countries such as Turkey, Iraq, Syria show that MEE is dedicated to objectivity. It has not hesitated from critical reporting of Qatar allies such as Turkey when provable by facts. It has not spared Qatar either, for instance a series of articles on the ill-treatment of foreign workers used to build its infrastructure.
MEE has also not shied away from covering issues of regional importance that place Riyadh and Abu Dhabi in a very poor light, resulting in access to the site being blocked in those countries and becoming a target of their ire.
Demand 12: Agree to all the demands within 10 days of it being submitted to Qatar, or the list becomes invalid.
It is unlikely that Doha will even be able to evaluate these demands, which often seek to deprive it of its sovereignty or involve instances that don't concern the country such as the demand to shut the MEE, within 10 days let alone agree to any or some of them.
Demand 13: Consent to monthly audits for the first year after agreeing to the demands, then once per quarter during the second year. For the following 10 years, Qatar would be monitored annually for compliance.
A demand that is tantamount to Qatar accepting its vassal status to the Saudis and UAE. There is no country on record that has ever acceded to such a demand, unless defeated in war.
Saudi Arabia and its allies have demanded the closure of a range of media outlets as part of their campaign against Qatar
Link
A Saudi coalition of states has placed 13 demands on Qatar to lift their blockade, including the closure of Al Jazeera and what it states are publications and websites "directly or indirectly supported by Qatar".
The list from Saudi Arabia, the UAE, Bahrain and Egypt also calls for Qatar to cut all ties with Iran, pay compensation to the petitioning states for "victims and losses" due to Qatari foreign policy and a
10-year "mechanism" to ensure Qatar sticks to the deal.
The media organisations the petition claims are "supported" by Qatar include Arabi21, al-Araby al-Jadeed, Sharq, and the London-based Middle East Eye.
Qatar has 10 days to accept the demands, it said.
David Hearst, Middle East Eye's editor-in-chief, said his organisation was not funded by Qatar - or any other state or group - and was here to stay.
"
Middle East Eye is independent of any government or movement and is not funded by Qatar,
" he said.
"Maybe the fate of Al Jazeera will depend on talks between the government of Qatar and its neighbours. But
Middle East Eye is here to stay.
"MEE covers the area without fear or favour, and we have carried reports critical of the Qatari authorities, for instance how workers from the subcontinent are treated on building projects for the 2022 World Cup."
On Thursday, the UAE's foreign minister Anwar Gargash accused Al Jazeera of being a "news broadcast for the Muslim Brotherhood".
"It is a mouthpiece for extremism. It has whitewashed personalities that have become symbols for terrorism."
Hearst said these claims, and the petition's demands for other media to close, were
designed to strangle independent views.
"
Obviously this is an attack on anyone in the Middle East who dares to offer an independent opinion
," he said.
"
Mr Gargash is frightened of something we in Britain call a free press. The only media he knows is one whose editorial line he can dictate and whose journalists he can buy. I have news for him.
That world is disappearing
."
The United Arab Emirates and Yemeni forces run a secret network of prisons where prisoners are brutally tortured
. The U.S. has questioned some detainees, and have regular access to their testimony -- a potential violation of international law. (June 21)
Thursday, June 22, 2017
Link
MUKALLA, Yemen (AP) — Hundreds of men swept up in the hunt for al-Qaida militants have disappeared into
a secret network of prisons in southern Yemen
where abuse is routine and
torture extreme — including the "grill," in which the victim is tied to a spit like a roast and spun in a circle of fire,
an Associated Press investigation has found.
Senior American defense officials acknowledged Wednesday that
U.S. forces have been involved in interrogations of detainees
in Yemen but denied any participation in or knowledge of human rights abuses. Interrogating detainees who have been abused could violate international law, which prohibits complicity in torture.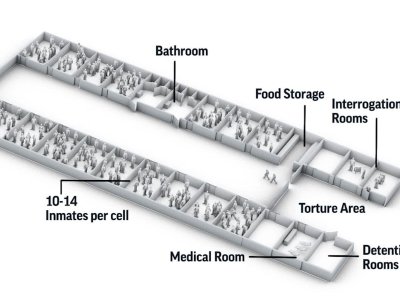 The AP
documented
at least
18 clandestine lockups
across southern Yemen run by the United Arab Emirates or by
Yemeni forces created and trained by the Gulf nation
, drawing on accounts from former detainees, families of prisoners, civil rights lawyers and Yemeni military officials. All are either hidden or off limits to Yemen's government, which has been getting Emirati help in its civil war with rebels over the last two years.
The
secret prisons
are inside military bases, ports, an airport, private villas and even a nightclub. Some detainees have been flown to an Emirati base across the Red Sea in Eritrea, according to Yemen Interior Minister Hussein Arab and others.
Several U.S. defense officials, speaking on condition of anonymity to discuss the topic, told AP that
American forces do participate in interrogations of detainees at locations in Yemen
, provide questions for others to ask, and receive transcripts of interrogations from Emirati allies. They said U.S. senior military leaders were aware of allegations of torture at the prisons in Yemen, looked into them, but were satisfied that there had not been any abuse when U.S. forces were present.
"We always adhere to the highest standards of personal and professional conduct," said chief Defense Department spokeswoman Dana White when presented with AP's findings. "We would not turn a blind eye, because we are obligated to report any violations of human rights."
In a statement to the AP, the UAE's government denied the allegations.
"There are no secret detention centers and no torture of prisoners is done during interrogations."
Inside war-torn Yemen, however, lawyers and families say
nearly 2,000 men have disappeared into the clandestine prisons
, a number so high that it has triggered near-weekly protests among families seeking information about missing sons, brothers and fathers.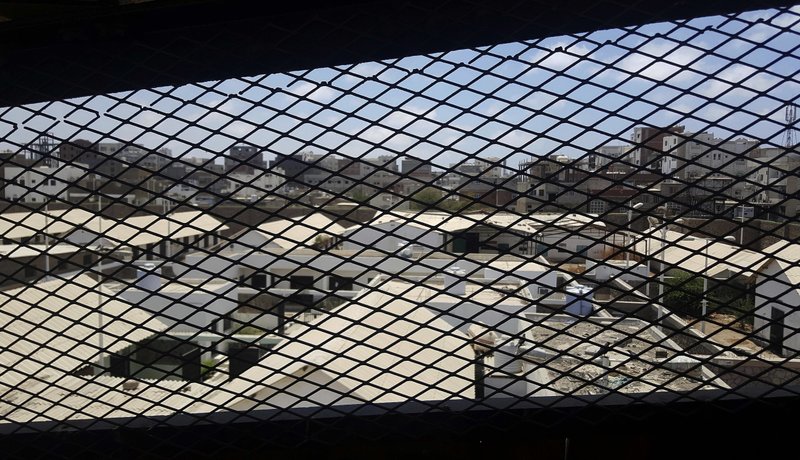 None of the dozens of people interviewed by AP contended that American interrogators were involved in the actual abuses. Nevertheless,
obtaining intelligence that may have been extracted by torture inflicted by another party would violate the International Convention Against Torture and could qualify as war crimes
, said Ryan Goodman, a law professor at New York University who served as special counsel to the Defense Department until last year
At one main detention complex at Riyan airport in the southern city of Mukalla, former inmates described being crammed into shipping containers smeared with feces and blindfolded for weeks on end. They said they were beaten, trussed up on the "grill," and sexually assaulted. According to a member of the Hadramawt Elite, a Yemeni security force set up by the UAE, American forces were at times only yards away. He requested anonymity because he was not authorized to discuss the matter.
"We could hear the screams," said a former detainee held for six months at Riyan airport. "The entire place is gripped by fear. Almost everyone is sick, the rest are near death. Anyone who complains heads directly to the torture chamber." He was flogged with wires, part of the frequent beatings inflicted by guards against all the detainees. He also said he was
inside a metal shipping container when the guards lit a fire underneath to fill it with smoke.
Like other ex-detainees, he spoke on condition of anonymity for fear of being arrested again. The AP interviewed him in person in Yemen after his release from detention.
The AP interviewed 10 former prisoners, as well as a dozen officials in the Yemeni government, military and security services and nearly 20 relatives of detainees.
The chief of Riyan prison, who is well known among families and lawyers as Emirati
, did not reply to requests for comment.
Laura Pitter, senior national security counsel at Human Rights Watch, said the abuses "show that the US hasn't learned the lesson that cooperating with forces that are torturing detainees and ripping families apart is not an effective way to fight extremist groups." Human Rights Watch issued
a report
Thursday documenting torture and forced disappearances at the UAE-run prisons and calling on the Emirates to protect detainees' rights.
Amnesty International called for a U.N.-led investigation "into the UAE's and other parties' role in setting up this horrific network of torture"
and into allegations the U.S. interrogated detainees or received information possibly obtained from torture. "It would be a stretch to believe the US did not know or could not have known that there was a real risk of torture," said Amnesty's director of research in the Middle East, Lynn Maalouf.
Defense Secretary James Mattis has praised the UAE
as "Little Sparta" for its outsized role in fighting against al-Qaida.
U.S. forces send questions to the Emirati forces holding the detainees, which then send files and videos with answers, said Yemeni Brig. Gen. Farag Salem al-Bahsani, commander of the Mukalla-based 2nd Military District, which American officials confirmed to the AP. He also said the United States handed authorities a list of most wanted men, including many who were later arrested.
Al-Bahsani denied detainees were handed over to the Americans and said reports of torture are "exaggerated."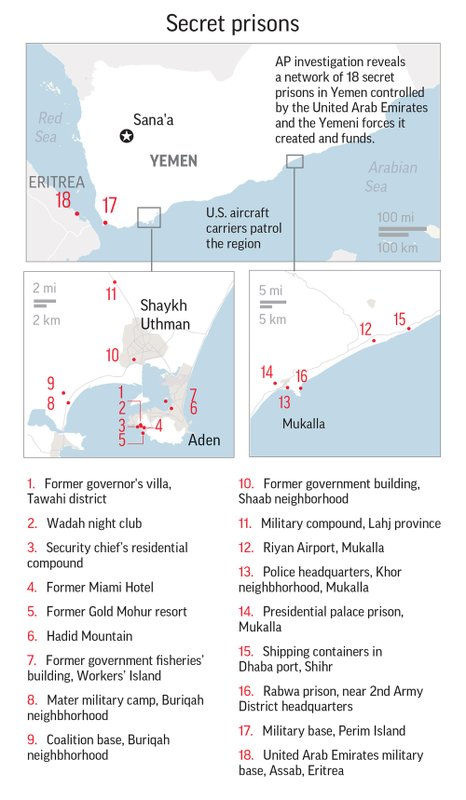 The network of prisons echoes the secret detention facilities set up by the CIA to interrogate terrorism suspects in the aftermath of the 9/11 attacks. In 2009, then-President Barack Obama disbanded the so-called
"black sites."
The UAE network in war-torn Yemen was set up during the Obama administration and continues operating to this day.
"The UAE was one of the countries involved in the CIA's torture and rendition program," said Goodman, the NYU law professor. "These reports are hauntingly familiar and potentially devastating in their legal and policy implications."
The UAE is part of a Saudi-led, U.S.-backed coalition meant to help Yemen's government fight Shiite rebels known as Houthis, who overran the north of the country. At the same time, the coalition is helping the U.S. target al-Qaida's local branch, one of the most dangerous in the world, as well as Islamic State militants.
A small contingent of American forces routinely moves in and out of Yemen, the Pentagon says, operating largely along the southern coast. Under the Trump administration, the U.S. has escalated drone strikes in the country to more than 80 so far this year, up from around 21 in 2016, the U.S. military said. At least two commando raids were ordered against al-Qaida, including one in which a Navy SEAL was killed
along with at least 25 civilians.
A U.S. role in questioning detainees in Yemen has not been previously acknowledged.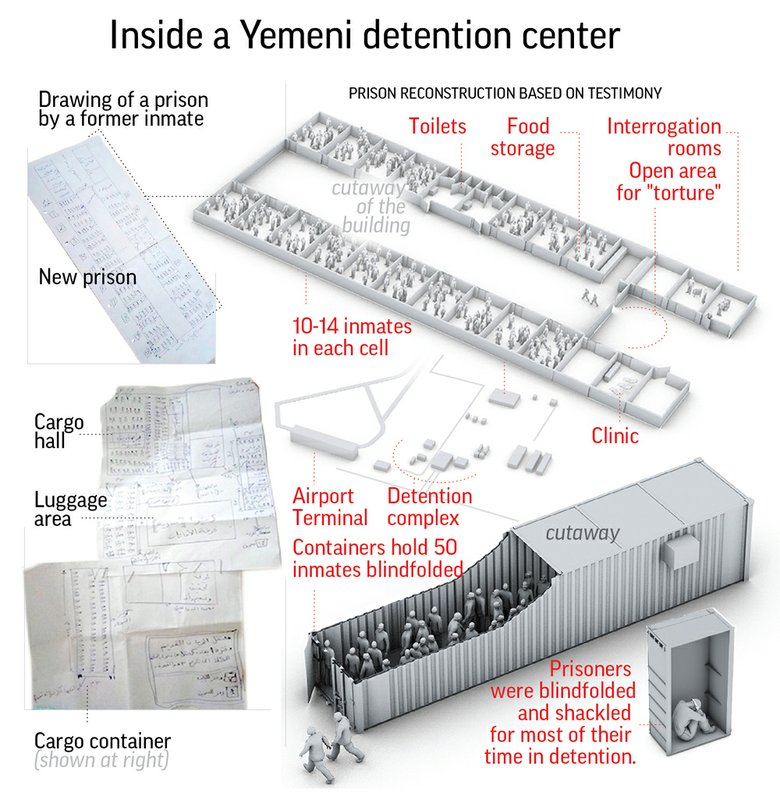 A Yemeni officer who said he was deployed for a time on a ship off the coast said he saw at least two detainees brought to the vessel for questioning. The detainees were taken below deck, where he was told American "polygraph experts" and "psychological experts" conducted interrogations. He did not have access to the lower decks. The officer spoke on condition of anonymity because he feared retaliation for discussing the operations.
Senior U.S. defense officials flatly denied the military conducts any interrogations of Yemenis on any ships.
"We have no comment on these specific claims," said Jonathan Liu, a CIA spokesman, adding that any allegations of abuse are taken seriously.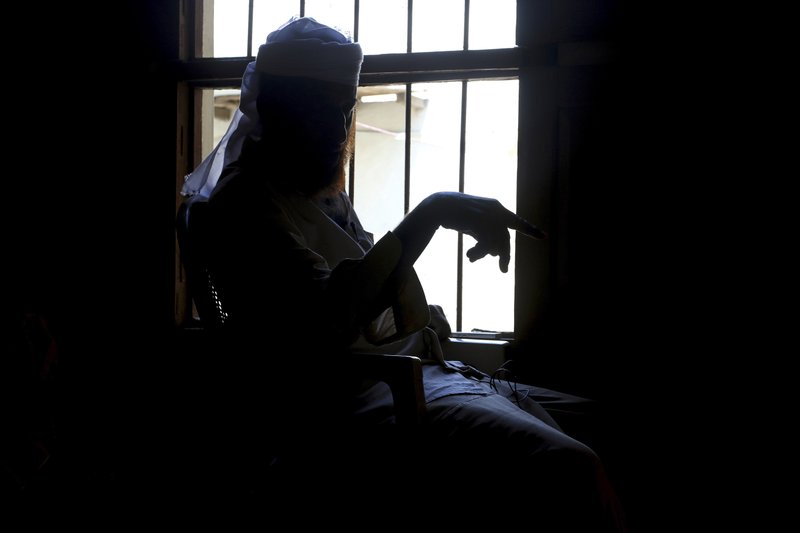 The Yemeni officer did not specify if the 'Americans on ships' were U.S. military or intelligence personnel, private contractors, or some other group.
Two senior Yemen officials, one in Hadi's Interior Ministry and another in the 1st Military District, based in Hadramawt province where Mukalla is located, also said
Americans were conducting interrogations at sea,
as did a former senior security official in Hadramawt. The three spoke on condition of anonymity because they were not authorized to discuss the U.S. role.
The AP learned the names of five suspects held at black sites who were said to have been interrogated by Americans. The Yemeni official on the ship identified one of the detainees brought there. Four others were identified by former detainees who said they were told directly by the men themselves that they were questioned by Americans.
One detainee, who was not questioned by U.S. personnel, said he was subject to constant beatings by his Yemeni handlers but was interrogated only once.
"I would die and go to hell rather than go back to this prison," he said. "They wouldn't treat animals this way. If it was bin Laden, they wouldn't do this."
___
Associated Press writers Lolita Baldor and Desmond Butler in Washington and Ahmed al-Haj and Maad al-Zikry in Yemen contributed to this report.