British MPs have voted down a plan to admit just 600 child refugees a year. With governments across the continent abdicating responsibility, this is an ethical catastrophe of historic proportions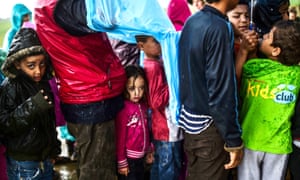 By
Patrick Kingsley
Link
Nevertheless, both in Britain and across Europe and America, we currently seem keen to forget the lessons of the past. In Britain, many of those MPs who voted against admitting a few thousand refugees are also campaigning to unravel a mechanism – the European Union – that was created, at least in part, to heal the divisions that tore apart the continent during the first and second world wars.
Emboldened by this, the Italian and German governments have since joined David Cameron in calling for refugees to be sent back to Libya, a war zone where – in a startling display of cognitive dissonance – some of the same governments are also mulling a military intervention. Where many migrants work in conditions tantamount to slavery. Where three separate governments are vying for control. And where Isis runs part of the coastline.
Instead, Merkel visited a sanitised refugee camp for 45 minutes. Most camp residents were ordered out of sight for the duration of her visit, leaving Merkel to spend roughly 20 seconds shaking hands with a line of just five Syrian men. It was a PR stunt stage-managed for the benefit of a hundred waiting journalists – a visual metaphor for the see-no-evil excuses that Europe has used to justify deporting refugees back to Turkey. "Today, Turkey is the best example for the whole world for how we should treat refugees," Tusk told us later in the day. "Nobody should lecture Turkey on what to do."
A few hours before Merkel arrived at the refugee camp on Saturday, I was on the other side of town at a sweatshop full of Syrians making shoes. The manager, Abu Shihab, hadn't heard of anything like the Evian conference, and he didn't mention the Holocaust. But he knows about Europe, and its reputation for morality. And he thinks it's now undeserved.
"Cats and dogs in Germany can get pet passports – and they're closing the borders to humans?" he asked. "History will document this."