Moustafa Bayoumi
Fox News, New York Post and Donald Trump are contributing to a climate of vigilantism that threatens every Muslim in America today
AN EXCELLENT COMMENT
Link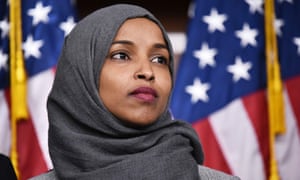 Over and over again, Ilhan Omar's detractors misrepresent her words and intentions, accusing her of saying things she didn't say or condemning her for things that have been said before, even by Republicans themselves.
But that didn't stop the New York Post from accusing Omar of precisely that. The cover of the Murdoch-owned tabloid had a picture of the Twin Towers in flames with the words "Here's your something. 2,977 people dead by terrorism" plastered across the page, as if Omar herself is responsible for those deaths.
Appallingly, Donald Trump has now furthered the smear, tweeting a video linking Omar and the 9/11 attacks to his millions of followers.
In scoring their cheap political points, Fox News and the New York Post and the president of the United States himself are directly contributing to a perilous climate of vigilantism that threatens not only Omar but really every Muslim in America today.
On one level, it's clear why Omar is subject to these attacks. Omar is black, a woman, an immigrant, a refugee and a Muslim. The fact that racism, sexism and bigotry drive a double-standard where Omar faces criticism while others received little to no scrutiny for the same comments is self-evident.
It's no wonder that so many people, some from her own party, want to shut Ilhan Omar up. She has a lot to say and she says it. I for one will be listening closely.