Campaigning journalist Hossam Bahgat speaks out amid further crackdown as fifth anniversary of uprising approaches
Jack Shenker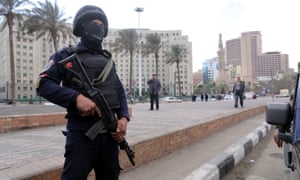 Link
"The level of repression now is significantly higher than it was under the Mubarak regime, and people from older generations say it is worse than even the worst periods of the 1950s and 1960s [under the rule of Gamal Abdel Nasser]."
"We have paid a lot for the security and stability that we currently live in, so I ask all Egyptians for the sake of the martyrs and the blood to take care of their country," Abdel Fatah al-Sisi, the president, said in a speech to the nation on Saturday.
Bahgat argued: "The only reason that there is such a level of panic regarding public opinion is that two years ago the regime could afford to take us for granted; Sisi was worshipped and they had carte blanche to do whatever it took to impose stability.
"With all the state powers now unified under Sisi's leadership ... people are now starting to ask questions of him."
"It was a reflection of how the state and security agencies view journalism today," said Bahgat of his arrest. "What Mada Masr tries to do is not only survive in this very difficult atmosphere but to survive while respecting its mission to report the news and provide a historical record of this particular stage in our country's history. "
In Bahgat's view, the leadership is nervous because of its failure to live up to its own rhetoric. "Two years ago this regime thought it was invincible," he said. "Right now we're in a position where clear cracks are starting to appear within the ruling circles, and there's a level of criticism of government conduct and corruption that simply did not exist before.
"This is a regime that people supported even at the expense of their own rights in order to defeat terrorism, and yet terrorism attacks today are at an all-time high and we have seen the almost complete destruction of the tourism sector. People are starting to realise that they gave up their liberties but did not get either the safety or economic stability they were promised in return."