Almost 150 civilians killed in past week, says Syrian Observatory for Human Rights, as Assad forces' bombardment continues
The Guardian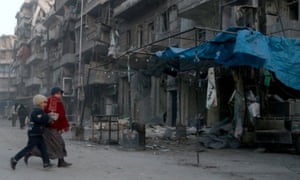 Residents try to escape from airstrikes in Aleppo. Photograph: Anadolu Agency/Getty Images
Link
"This ferocious campaign is a war of extermination," said a doctor in eastern Aleppo, who was wounded earlier this month in an airstrike. "Everything is a target, whether human or tree or rock. Everything is being exterminated with the collusion of the United Nations. They all see and hear, but they will not answer, and they cannot stop this war machine."
"We have nobody but God," he added.
The Syrian Observatory for Human Rights, a UK-based organisation, said on Tuesday 141 civilians, including 18 children, had been killed in the last week of violence.
Moscow intervened last year in the conflict to shore up the Assad regime. Observers had predicted that the renewed assault on the city would begin with the highly publicised arrival a week ago of an aircraft carrier belonging to Russia off the Syrian coast.
Those fears have been realised one week into the vaunted campaign, with relentless aerial bombardment that has reduced to rubble civilian homes and left the rebel-held east without any functioning hospitals for a quarter of a million people, including nearly 100,000 children by UN estimates, who are still living there. The city has been besieged since July.
The Observatory said on Tuesday that 834 civilians, including 176 children, had been killed over the past two months, since the Syrian military announced a campaign to retake eastern Aleppo.
Aleppo has been divided since 2012, with the west under government control and the eastern districts held by rebels. Its fate has long been seen as a bellweather for the momentum of the Syrian war, and forces loyal to Assad hope to deal a fatal blow to the rebellion by seizing the last major urban stronghold under opposition control.
Loyalist forces include thousands of Iranian-backed militias along with a contingent of Syrian government troops who have so far made limited incursions into the rebel-held east. That battle will likely result in numerous casualties and intense urban combat that would leave the neighbourhoods still standing in ruins.