Jason Rezaian suffered 'irreparable harm' being subject to 'torture and other cruel treatment' during his detention in a Tehran prison, the lawsuit says
The Guardian
Link
COMMENT
Next the Iranian government should be sued for Hizbullah's killing of 241 marines and sailors in Beirut in 1983.
Many more lawsuits should be filed against Iran by the 42 Americans, and their families, who were held hostage in the US embassy in Tehran for 444 days
(November 4, 1979, to January 20, 1981).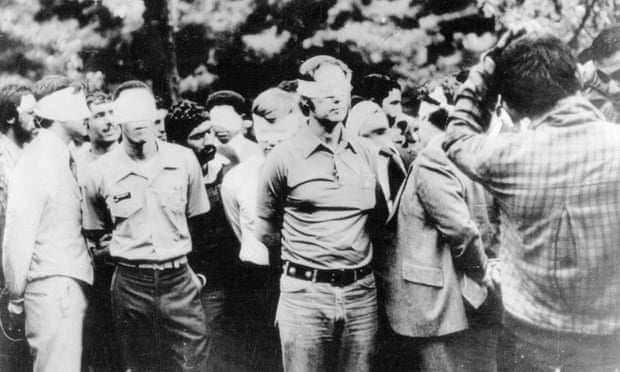 (US hostages in the US embassy in Tehran)
Let the lawsuits fly and make Iran pay some of those assets recently unfrozen!
The suit, filed in US district court in Washington, alleges that Rezaian was targeted and imprisoned at Tehran's notorious Evin prison for the "unlawful purpose of extorting concessions from the US government" and other parties as the two countries engaged in multinational talks over curbing Iran's nuclear program in exchange for sanctions relief.
Rezaian and his wife, Yeganeh Salehi, who was also detained at Evin for two months, were told on multiple occasions by Iranian security guards and interrogators that the reporter was "high value" and would be used as a "bargaining chip" in a prisoner exchange, according to the suit.
"In reality, Jason committed no crime and was never legitimately tried, convicted, or sentenced – even according to Iranian standards," the complaint said.
The Iranian government has not released details of his conviction in the closed-door trial. Rezaian, his family and his employer have maintained that the charges are demonstrably false.
The lawsuit includes harrowing new details about Rezaian's imprisonment. It claims Iranian officials subjected Rezaian to "prolonged solitary confinement, deprived him of sleep, aggressively and relentlessly interrogated him, denied him basic medical treatment for serious and painful illnesses and infections, and threatened him with dismemberment, execution, and other forms of cruel and unusual physical torture".
The 18-month ordeal was so traumatic that Rezaian, his wife and his brother, Ali, all contemplated suicide, the suit said. Now nine months after Rezaian was freed and returned home, the journalist and his family are still reeling from the emotional and physiological scars caused by his detention.