Both men like to crush dissent and have little time for diplomatic norms – but while the Russian president plays chess with the world, his counterpart just plays
A VERY GOOD COMMENT
Richard Wolffe
The Guardian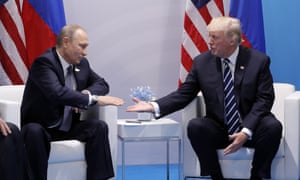 Link
"America first" takes second place when Vladimir is sitting close to Donald.
"We spoke over the phone with you several times," Putin replied. "But phone conversations are never enough, definitely." How true. In any long-distance relationship, you need something more physical to make it real. Along with a team of collaborators with curiously close ties throughout a big election and its aftermath.
It's tempting to think that Trump and Putin are cut from the same cloth.
While the bromance may (or may not) be cooling, they both seem to share a disdain for Merkel, which is little awkward since she is hosting them in Hamburg.
However, there is no single living cultural organism called Trumputin. They are two separate creatures with very different structures, more like a virus and a host: co-dependent but each with delusions about who is the superior form of life.
Putin is a cunning negotiator with the skills of a KGB colonel, varying between brute force, charm and obfuscation. Trump is a blindingly obvious braggart with the skills of someone playing the slot machines in Reno, varying between good fortune and loud noises.
Putin has a strategic interest in reshaping the world according to his needs. Trump has a tactical interest in generating global headlines according to his neediness. One is playing chess; the other is just playing.
These differences did not stop a friendly first encounter in Hamburg, where Trump greeted Putin with a handshake and pat on the back. This is not the traditional greeting for someone who has attacked the integrity of your electoral process, but Trump wasn't elected to respect traditions. He's a rule-breaker, just like the Russian hackers who helped him get elected for patriotic reasons.
You see, this is what liberals don't understand about Trump. The president's head was precisely in the game. It was just a different kind of game: the game that got him elected with the help of Russian hacking and possible collusion.
The best preparation for Putin was to revisit the scene of their last joint project. Because phone conversations are never enough. Definitely.